I'll be honest: I'm a girly girl.
I love all things Ann Taylor Loft; my idea of camping out involves parking my butt at the poolside bar of a Marriott resort; and, oh, how Clinique's new lid smoothie eye color with the cooling metallic applicator feels like pure bliss on my tired eyelids.
I offer no pretenses – I am most definitely a girly girl.
But lest I be defined by such a label, I still have a few surprises up my sleeve.

Defying my venerable girly girl reputation by impersonating Craig Springs' most badass staff member at the annual camp talent show
Her startled cry caused me to damn near jump out of my skin.
My head jerked up, eyes peering over my monitor, half expecting to see an intruder in our office holding a gun. Working in one of the most prominent buildings on a college campus, it's a fear that dwells in the deepest recesses of my mind, rarely acknowledged but nonetheless there.
My boss stood before me frozen, her eyes locked on an object on the carpet near her feet. It was certainly an intruder… but not of the gun-toting variety.
"Oh my God, it's a snake!" she yelped.
I felt myself exhale in a sigh of relief. Oh, a snake, I thought. Is that all? 

Yeah. It looked nothing like this. 
Snakes? I'm fine with snakes. They neither shock, scare, nor skeeve me out. In fact, as long they're not poisonous, I find them completely innocuous and rather cute.
Even the venomous ones I feel bear no more than wary respect. Growing up in the far western suburbs of Richmond, Virginia, I often played in the wooded area surrounding my house, mindful of the copperheads indigenous to the area but otherwise carefree.
And then there was our "pet" black snake. Affectionately dubbed Blackie, he resided in the unfinished basement of my childhood home for 12 of the 18 years my parents lived there, earning his keep by consuming a steady diet of field mice and other vermin. Over the years, we would catch glimpses of him slithering under the basement door to disappear among the clutter within, or happen upon him while he lie sunning himself in the backyard. But beyond a momentary start, such encounters were generally met with a dismissive, "Oh… it's just Blackie."
Despite these rare sightings, however, we knew he continued to live among us, as every year while cleaning out the basement we found his discarded skin. By the time my parents downsized to an empty-nester community in 2005, it had grown to more than six feet long.
It was during the downsizing process that my dad – in his preparations for a yard sale – had one final interaction with Blackie before the move. As an early morning thunderstorm approached on the day of the sale, Dad noticed the old snake slowly making his way back to the basement after a night of foraging in the woods.
Dad stepped in front of him, blocking his path. Undeterred and not altogether happy at the prospect of getting wet, Blackie shifted left, determined to go around him.
Dad also stepped to the left. At this point, Blackie stopped and stared stubbornly up at him, not unlike a petulant child.
Dad stood his ground. "You're not going in there," he said firmly. "Not while people are here, anyway."
And with that, the big black snake obediently turned and slunk back into the woods.
It was with this firm-yet-apologetic attitude that I now peered down at the baby garter snake curled up on my office floor. While I was quite content to share my space with it, my office mates were clearly not as accommodating.
Annoyed by our scrutiny, it wriggled its way to the side of the room and plastered itself against the baseboard. I followed and without looking up, held out an open palm to a nearby co-worker.
"Pen," I demanded in the authoritative tone of a trained surgeon requesting a scalpel.
After a few vain attempts to coil the small snake around this most useless tool, however, I heaved a sigh and with a mental shrug, simply reached down and picked the thing up.
At first it protested, assuming as much of a strike pose as a baby garter snake can. But then it seemed to realize on which side its bread was buttered and relaxed as I carried it outside and released it into the grass.
I returned from this impromptu rescue mission to the surprised, impressed, and faintly amused reactions of my co-workers. Over the next two days, word got out in our small college town, and I found myself frequently referred to teasingly as the "snake wrangler," as people asked me to relay the harrowing tale. I began to feel embarrassed by the attention, all of which seemed tinged with that same maddening hint of amusement.
Finally, another co-worker said what everyone had no doubt been thinking.
"You just don't strike me as someone who'd pick up a snake, Kristin," she told me frankly. "You seem like the kind of girl who'd instead be standing on a chair screaming."
Ouch.
My friend, Kym, phrased it a bit more diplomatically, telling me I suddenly had a "Pinky Tuscadero glow about me" that she never would've guessed existed. Kym – a classic rock loving biker chick with a heart of gold – also confessed that she would have vomited, screamed, and run away had she been in my shoes.
That's when a small epiphany struck.
As women, even the most badass among us have vulnerabilities hidden in the soft nougat centers that lurk beneath their hardened exteriors. And like my friend, Kym, they're not afraid to let them show.
Likewise, those of us who are perceived by others to be more outwardly feminine (and therefore more vulnerable?) each possess some inherent trait that can, at times, bring out our inner badass. Which tends to feel awkward – especially when others find self-serving entertainment value in it.
But if that trait exists, why not own it?
I'm a girly girl. I adore fashion and wedge-heeled strappy sandals and makeup and hair product.
But I will also rescue a misguided snake with my bare hands while everyone else runs screaming for the nearest chair. And that, I recognize, is no small feat – no matter how small the snake.
It was with this realization that I shook off my embarrassment. And embraced my inner badass.
 Also joining Just.Be.Enough. in the fight against cancer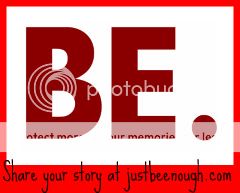 Images purchased from 123rf.com 
What is one badass thing people would be surprised to know about you?